Personalized Wedding Songs
A Song Legacy customized wedding song will provide the perfect touch for your own wedding reception or ceremony, or will be a unique gift to the bride and groom at the rehearsal dinner or reception. Customized wedding songs also can add a unique personal touch as an accompaniment to a wedding video or for a slide show to be shown at the rehearsal dinner.

The lyrics of the custom wedding song will be created from the information you give us, and set to original music by one of our talented composers. The song will then be recorded by a professional male or female vocalist and delivered to you along with an optional personalized lyric sheet and CD cover, using the photo(s) you provide.

To get an idea of the quality and variety of our songs, listen to a few of the song samples on the right of this page, or go to our Customized Wedding Songs page to learn more about the songs, hear samples of complete songs, and see lyric sheets and CD covers.



MP3 Downloads of Original Wedding Songs
We also offer inexpensive MP3 downloads of our original wedding compositions for bridal entrance, mother-son processional, first dance and other wedding reception dances. These songs feature lyrics designed for use at any wedding, without unique personalization for a particular customer. You can hear a small sampling of these songs in the song sample box on the right of this page, or go to our Wedding Songs MP3 Download page to learn more.


Hear song samples and learn about our personalized wedding songs and inexpensive MP3 downloads of original wedding songs.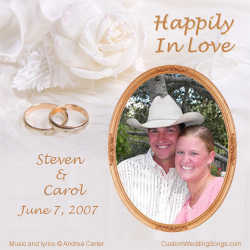 CD cover for personalized
first dance wedding song