Custom Wedding Songs
Song # AC009
with Sample Lyrics
Here She Is - My Cherished Bride
Bridal Entrance Song

Personalized lyrics can be written for this music composed by Andrea Carter (see below for price). The song is also available for purchase as a Bridal Entrance song with the lyrics that appear below. The purchase price of $9.99 includes a download of the music MP3 file, in addition to high quality pdf lyric sheet and CD cover images. Learn more about the Bridal Entrance song MP3 download.

To choose this music for your own personalized song, please request song AC009.

STYLE: Ballad
SUGGESTED USES: Bridal Entrance
TIME: 1 min. 38 sec. (Time can be extended for personalized song.)
PRICE FOR PERSONALIZED SONG: $749

COMPOSER/LYRICIST: Andrea Carter
VOCALIST: Richard Bryant

LISTEN WITH FLASH (Requires Flash Player 7 or higher): Click on selection to hear full song.


LISTEN TO MP3 (if you don't have Flash): MP3 excerpt (57 sec.)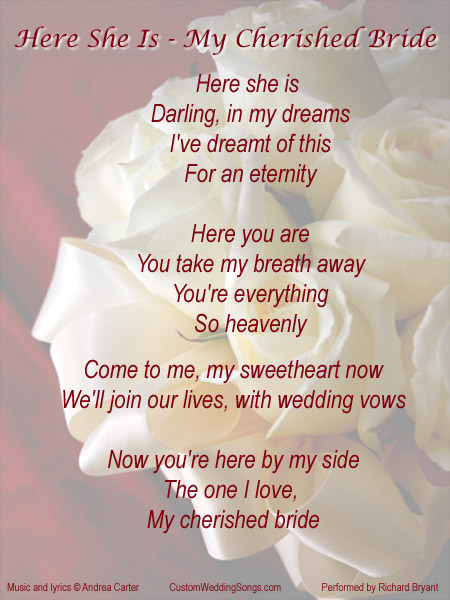 Lyric Sheet for Bridal Entrance Song
(Lyric sheet for personalized song will include your photo.)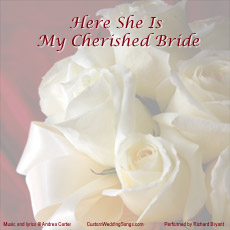 CD Cover for Bridal Entrance Song
(CD Cover for personalized song
will include your photo.)